German Shortcrust Pastry Recipe
Easy Mürbeteig recipe for cakes and cookies
---
This German sweet shortcrust pastry recipe can be used for fruit tarts, cheese cakes, Christmas cookies and many more German dessert recipes.

The secret for a successful Mürbeteig is to use cold ingredients and cool hands. Don't knead the dough too long, it might get crumbly.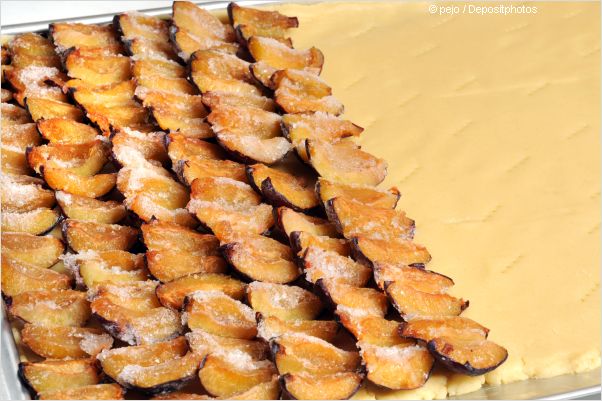 The traditional Mürbeteig is based on the 1, 2, 3 principle. That means you use 1 part sugar, 2 parts butter, 3 parts flour. Whether an egg belongs to the recipe, or not, is often discussed.
The dough with an egg is not so crumbly and slightly easier to handle. That's why I always use the version with an egg :).
Facts & Events
Travel Tips
German States
Foods & Recipes
Culture & Customs
Shortcrust Pastry Recipe
Based on the 1,2,3 principle you can easily adjust the amount of sugar, butter and flour, depending on the size of the tin, and how thick you like the pastry.
Tip: Prepare twice as much dough, and put one (raw) portion into the freezer to make a quick fruit tart for unexpected guests.
Ingredients for a 26cm (10 in) tin:
50g (1/4 cup) sugar
100g (1/2 cup) cold butter
150g (1 1/4 cup) pastry flour (Type 405)
1 egg
1 pinch salt
Additionally, you can flavour with lemon essence or vanilla sugar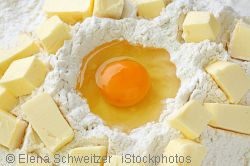 Preparing a shortcrust pastry
Directions
Sift the flour on a large board or clean table, make a hollow like in the picture above.

Add the sugar and the egg into the hollow,
cut the cold butter into pieces and put it on the rim.

Mix the egg and sugar with your fingertips, then quickly rub butter into the flour and blend all ingredients together. Don't knead too long.

Form a ball with the dough, wrap in cling film and let it rest in the fridge for at least half an hour.
Quickly knead the dough again, roll it out on a floured table.

Grease a flat baking tin, sprinkle with breadcrumbs, put the dough into the tin, prick some holes into the dough to avoid bubbles.

Bake at 200°C / 400°F for about 10 to 15 minutes.

Let the cake rest for 5 minutes and remove it from the tin while still warm. Let it cool on a wire before you top it with fruits.
If you use cups, please check this page for flour facts and gram to cup conversion.
Variations
This sweet
shortcrust pastry
recipe can be used for fruit tarts, cheesecake, plum cake or as a firm base for filled sponge gateaus.
Try it for Christmas cookies, sprinkled with sugar, chocolate chips or almond slivers. The cookies will have a crunchy consistence and a fine butter taste.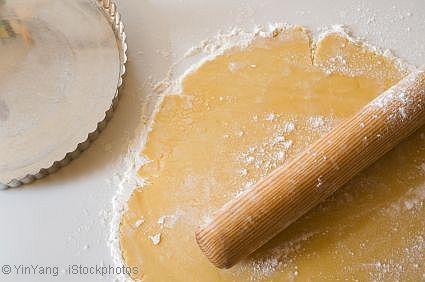 Getting hungry? Try these delicious German cakes & cookies
Copyright © 2010- Rita Amend.
ALL RIGHTS RESERVED