How to get around in Hessen
Frankfurt is the main transportation hub in Hessen. If you visit from outside Europe you'll probably arrive at Frankfurt Rhine-Main airport. The train station in Frankfurt is one of the busiest in Germany, as is the Frankfurter Kreuz for the Autobahn.
Travel by Train
It is easy to get around by train.
ICE trains stop in Frankfurt, Hanau, Fulda, Kassel and Limburg. Regional trains connect the rural areas with the cities. If a village doesn't have a train station, there is certainly a bus connection to the next train station.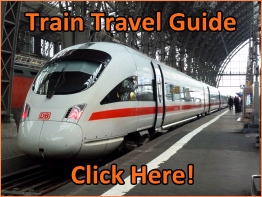 Guided Tours from Frankfurt
When you are short of time and don't want to organise things yourself, you can visit the rhine valley, Heidelberg, Rothenburg ob der Tauber and other places on a day trip. There is even a fantastic 7-days excursion to all the famaous destinations in southern Germany available.
Discover tours from Frankfurt
Get around by car
Major Autobahnen (motorways) through Hessen include:

A3 - from the Netherlands to Austria, the A3 goes through the Ruhr area, Düsseldorf, Cologne, Frankfurt, Würzburg, Nürnberg, Regensburg, Passau

A7 - from Austria to Denmark, the A7 goes from Flensburg in the north through Hamburg, Hanover, Kassel, Fulda, Würzburg, Rothenburg ob der Tauber, Ulm, Kempten, Füssen

A5 - coming from Basel (Switzerland), the A5 passes Freiburg, Karlsruhe, Heidelberg, Darmstadt, Frankfurt, Bad Homburg, Giessen, and joins with the A7 near Bad Hersfeld in North Hessen.

If you want to explore the countryside, you need to get off the Autobahn and drive on Bundesstrassen (state highways) and Landesstrassen (country roads). Get a map, start planning, enjoy. Hessen is really worth to go off the beaten track.