German Train Schedules
by Rita
(germany-insider-facts.com)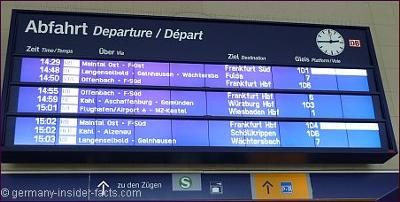 Announcement board at a German train station
How to get on the right train in Germany?
Always double-check platform information before you board a train.
Reader Paul shared his story how he nearly missed his train because the train departed from a different platform on his travel day.
Unfortunately, it happens occasionally that trains don't leave from the scheduled platform as announced on timetables and sometimes even on your train ticket.
Maintenance work, delayed trains and other factors are responsible that trains sometimes depart from a different platform.
How to avoid that you end up on the wrong train?
1. Check the electronic information board on the entrance at a train station. These boards list departure time, train number, the platform (Gleis) and the final destination for trains that depart during the next 30 to 60 minutes.
When you see a news ticker entry to the right of your train information read it carefully. It tells you if a train is late, if it doesn't stop at a certain station, or if it leaves from a different Gleis than mentioned on the timetable.
2. There is also an announcement board on each platform that gives info about the next train to depart from that Gleis. On busy train stations trains leave quite frequently, so when you arrive early, look and get on the right train.

Train info on a platform (Gleis)
3. Smaller train stations often have only two rail tracks, so sometimes you just see a sign that shows the final destination on each track.
So it is good to know in which directions your train goes.
4. Regional trains, S-Bahn, U-Bahn and buses usually have the final destination on front of a train.
So, the printed train schedules / timetable / Fahrplan can be helpful for first information. And yes, they usually list trains operated by private companies as well. However, the timetables only get updated once or twice a year, so the info boards show the most current facts.
The main change of timetables (Fahrplanänderung) for all public transport happens in mid-December every year. Unfortunately, this means that prices for public transport often rise at that time as well.
Try to arrive early at the station. Don't hesitate to ask train conductors or fellow travellers on the platform.
Don't miss my other pages with more tips about train travelling:
German Rail
- Information about trains, tickets & local transport.
Rail Passes
- When is it useful to travel with a Germany rail pass?
Bahncard
- When is a Bahncard better than a rail pass?
Archived Train Travel Questions
- More train travel tips and questions by other readers.
Updated 26.11.2015
Below are a few articles about favourite holiday destinations. Enjoy your planning!