Castle Hotels - Schloßhotels
With more than 20,000 German castles and palaces (okay, ruins are included in this number), it is no surprise that you will come across many hotels in Germany which are located in beautiful old castles and palaces.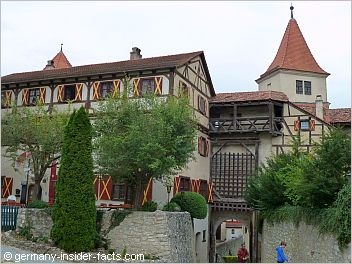 Have you ever dreamt about living like a queen or king? Want to follow the knight behind the dark walls of his medieval castle?
In German castle hotels your dream can come true, at least for a night, or two.
Use the search box below to let HotelsCombined find you the best deals, luxury or budget hotels in Germany


Hostels - Jugendherbergen
Do you remember the youth hostels of your childhood?
Huge spartan rooms with bunk beds and no privacy, bathrooms with cold water, and you had to clean the dishes after a meal?
Hmmm, at least hostels were like that in Germany when I was a child. But I loved them, nevertheless.

Things are slightly different these days. Of course, you can still get a bed in a bunk room, however, hostels also offer family rooms and double rooms, even with private facilities, for travellers.

Hostels offer reasonable, inexpensive accommodation, tips and tours, and it is easy to get in contact with other travellers.
German Hotels - Bed & Breakfast - Privatzimmer - Holiday Flat - Ferienwohnung
Driving through small towns in holiday regions in Germany, you'll often notice a sign "Zimmer/Ferienwohnung Frei" (rooms/holiday flat vacant) in front of houses. House owners rent a spare room or a holiday flat in their houses to visitors.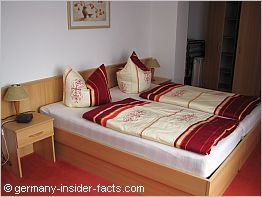 Typical German double bed
This type of accommodation is usually not available just for one night.
Especially for families renting a holiday flat is a good way to save money. Apart from that, it is much more convenient to have your own self-contained unit with a kitchen to prepare a meal.
When you rent a
Privatzimmer
, breakfast (
Frühstück
) is usually included, whereas in a
Ferienwohnung
(holiday flat) you have to prepare breakfast yourself.
It is not unusual that Germans return to their favourite holiday flat or bed & breakfast accommodation for many years and become close friends with their hosts.