Neuschwanstein and Hohenschwangau
No, I don't forget to mention the biggest attractions, only a few kilometres from Fussen. Especially for visitors from abroad the Königsschlösser are the main reason to visit the Allgäu.
Take a bus from the train station in Füssen to the bus stop Königsschlösser in Hohenschwangau. It takes only 8 minutes to get there by bus. Hohenschwangau castle is right in the middle of town. Here is more info on how to get to Neuschwanstein castle once you arrive in Hohenschwangau.
Restaurants in Füssen
When you walk around in Füssen you will find plenty of restaurants and cafes to relax and recover from sightseeing.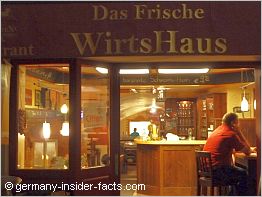 The rustic Wirtshaus zum Hechten offers superb lokal food
There are pizzerias and other international restaurants for your choice. However, try the local cuisine, after all, this is what makes a holiday very special.

Pork knuckles, pork roast, rouladen, trout & fishes from local lakes and rivers, dumplings, Schupfnudeln and Käsespätzle give you plenty of choice.

The Wirtshaus zum Hechten (pictured above) is only one of many restaurants that offer delicious local food.
Hotels in Fussen Germany
On my first visit in the area I stayed in a Hotel in Hopfen am See Germany, right on the edge of Lake Hopfen. The views to the Alps were fantastic. Unfortunately, I didn't bring my camera. Go figure!


Hotel zum Hechten
When you look for a hotel right in the town centre of Fussen, there is plenty of choice. Historic hotels, often owner operated, offer a lot of charm and personal service.
On my most recent visit to Füssen I enjoyed my stay at the
Altstadt Hotel Zum Hechten in Füssen
.
The hotel offers modern rooms, a wellness centre with sauna & spa and a friendly service. The Hechten is right in the town centre within the mall, you can easily walk every where.
Travellers who arrive by car can park at the rear of the hotel, fairly convenient. To check all hotels available, just type your dates in the search box to the right and find a great hotel in Fussen.
Map of Füssen
Here is a map of the city centre with the names of the main streets. Füssen's pedestrian malls with shops, restaurants and comfortable hotels. It is a pleasure to stroll around the streets and lanes.


Füssen and the surrounding areas offer so many activities and attractions. It is really worth to stay a couple of days in this pretty town.