Oktoberfest in Germany
How to get there? What does it cost? Oktoberfest tours
---
You want to visit the Oktoberfest in Germany? Need tips and advice how to get around in Munich during this busy time? Looking for accommodation, a tour or want to make a seat reservation in advance?

On this page you will find all the info you need to be prepared for a fantastic experience.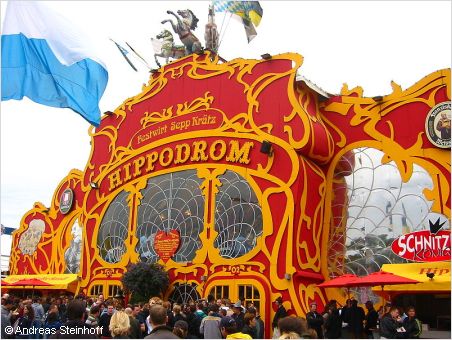 Munich is Germany's third largest city that attracts visitors all around the year.
But can you imagine what the city is like during the Oktoberfest? When millions of visitors arrive to celebrate at the Wiesn?
Busy, very busy indeed, and certainly a bit crazy, too. Of course it is also a lot of fun and an unique experience.
It is a good idea to plan your trip and book a hotel in advance to have a relaxed time once you arrive.
It's the end of a 111 year tradition! (2014)
The colourful Hippodrom tent is not at the Oktoberfest anymore. Fans can still visit the tent at the annual spring festival on the Theresienwiese.
What does the Oktoberfest cost?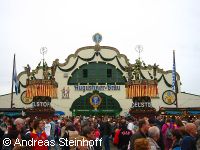 The good news is that there are no entrance fees!
You don't pay to get on the festival grounds, nor do you pay to get into one of the beer tents. However, as the tents fill up quickly, especially on weekends, it is a good idea to make a seat reservation.
You can make a reservation directly with one of the tents. The reservation is also free, but you have to buy coupons for food and beer starting from 20 €.
Of course, it is possible to get into a beer hall without reservation when you are only 2 or 3 people.
However, sometimes the tents get closed when they become overcrowded and it is a challenge for large groups to get in then.
You'll find many more tips in my friend Marion's informative Oktoberfest guide book, just click the book on the left.