Neuschwanstein Castle
History, Facts & Castle Photos
---
Neuschwanstein Castle (Schloss Neuschwanstein) is without doubt one of the most visited German Castles. More than one million visitors travel to the fairy-tale palace in southern Bavaria every year.

King Ludwig II of Bavaria, who is often attributed as the "mad", "eccentric", "swan" or "fairy-tale" king, had his dream palace built in Gothic Revival style on a rocky ridge not far from Hohenschwangau.
Neuschwanstein's dramatic setting on the ridge that borders the Pöllat Gorge in the west has indeed contributed to the castle's fairy-tale image.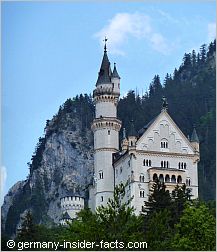 From whichever direction you look at the castle, you will be thrilled by its stunning location and its unusual architecture. No wonder that Neuschwanstein was the inspiration for Disneyland's Cinderella castle.
Literally translated Neuschwanstein means "new swan stone". The swan was the heraldic animal of the counts of Schwangau, and it is the Christian symbol of purity. Originally called "Neue Burg Hohenschwangau", the castle was named Neuschwanstein after Ludwig's death.
Ludwig II was fascinated and inspired by the medieval legends in Richard Wagner's operas: Tristan and Isolde, Sigurd, the swan knight Lohengrin, Parsifal and the minnesinger Tannhäuser.
It is no surprise that paintings and murals in the rooms throughout the castle were modelled on these ancient myths & sagas which had also influenced Richard Wagner for his operas.