German Easter Customs
Discover how we celebrate Easter in Germany
---
German Easter customs have a long history, some of our traditions, the "Osterhase" for example, have spread around the world. Literal translation of Osterhase is Easter hare, so it is definitely a hare, not a rabbit.
Easter symbols and traditions are closely related with spring, the circle of new life, fertility and light.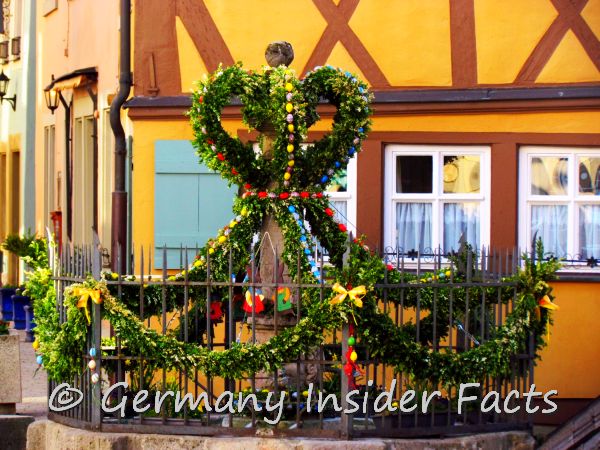 Lovely Easter fountain in Rothenburg ob der Tauber

Like Christmas, Easter in Germany has become much more commercialised than it used to be when I was a kid.
Our Easter decoration at home was usually simple, a few mouth-blown and painted eggs hung on a few forsythia twigs, and brought a lovely spring atmosphere into the house.
Of course, the content of the eggs was not wasted, it was used for cakes and scrambled eggs.
Customs of the Holy Week (Karwoche)
Easter (Ostern in German) is a Christian holiday celebrating the resurrection of Jesus Christ from the dead. It is preceded by Lent, the fasting period that begins on Ash-Wednesday. Ostern is the most important holiday in the western churches, even more important than Christmas.
Secular and religious Easter customs are often interwoven, and vary slightly throughout the regions.
Palm Sunday is the Sunday before Easter and the begin of the Karwoche. In many towns you will see traditional processions with people carrying palm branches.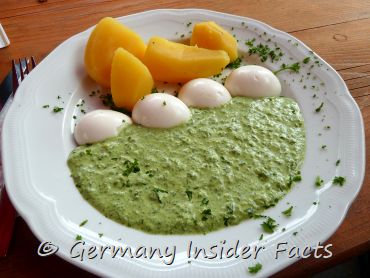 Green sauce is a traditional dish on Maundy Thursday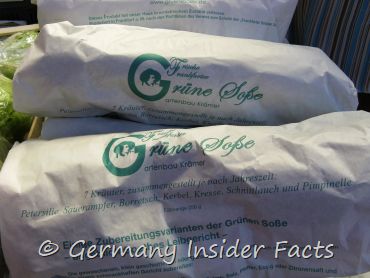 Herbs for the green sauce wrapped in paper

Green Thursday
(Gründonnerstag), or Maundy Thursday was the day of a big house cleaning when I was a child. It is also referred to as Osterputz (Easter cleaning) or simply spring cleaning. However, these days it can happen at any time during early spring.Green food is common on that day, spinach, leek, herbs. In our home it was definitely the green sauce, a traditional dish of the region around Frankfurt.

Good Friday
(Karfreitag) is a public holiday in Germany. The day is also considered a quiet holiday. Public dancing events are banned in all states in Germany on this day. The traditional food is fish.

Easter Vigil is a church service that is held after sunset on Saturday and before sunrise on Easter Sunday. A small Easter fire is lit in front of the church, and the Easter candle is carried into church.
German Easter customs everyone enjoys
The most important question a few days before the holiday is "will it be raining on Easter?"
It is definitely no fun to search for Easter eggs in a wet garden. Conversely, hiding the eggs and chocolates inside, is less fun and can end up in a mess if a few eggs won't be found in time.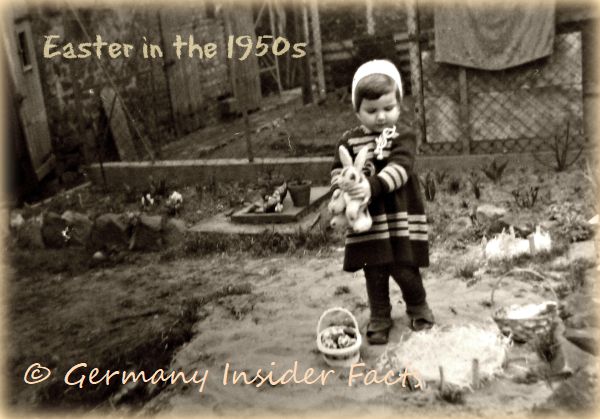 "That's me at Easter, a long time ago"
What a cute Osterhase I got!
---
Osterhase / Easter Hare / Easter Bunny - Georg Franck von Franckenau first mentioned in an essay from 1682 that in some parts of Germany the Osterhase hides eggs for the children. The adults would watch the kids searching for the Easter eggs with great joy.
In Switzerland it was the cuckoo, the stork, the fox and the cock were delivering eggs in other regions of Germany.
This German Easter custom was brought to the USA German immigrants. Since the 19th century the hare has been known as the only egg deliverer.
Eggs and hares are ancient symbols of fertility, so it seem only natural that the tale of the Osterhase developed.


Easter Eggs / Osterei - decorating eggs has been known for centuries, predating Christian traditions. In Germany it was first mentioned in the early 13th century.
Especially the Sorbs in East Germany, and other Slavic people, generated a beautiful art of egg decoration, not only for Easter.
Nowadays, the term Easter egg includes not only chicken or other animal eggs, but also chocolate eggs, and wooden, ceramic and plastic eggs used for decorations.


Easter Fountains / Osterbrunnen - This stunning custom originated in Franconian Switzerland (Fränkische Schweiz) but has spread to other regions in central and southern Germany.
Public fountains, but also other public monuments, are decorated with greenery and colourful eggs, often in form of a crown. It is really a beautiful sight!


Egg Tree / Ostereierbaum - The custom to decorate cut twigs from forsythia or pussy willows with coloured eggs is fairly old. These early blooming bushes brought a sense of spring into the homes. Additionally, you see often decorated bushes and trees in front houses.
A famous example is the Easter egg tree in Saalfeld, Thuringia. The Kraft family decorated an apple tree in their garden for 50 years, from 1965 until 2015. They started with 18 plastic eggs, but soon changed to mouth-blown and hand-painted eggs.
As the tree grew, more eggs were needed every year. In 2012 they crossed the 10,000 eggs mark.
From 2016 on the new egg tree will be in the Schlosspark in Saalfeld, using almost all eggs of the Kraft family.


The Easter Egg Tree in Saalfeld
Osterfeuer / Easter Bon Fires - This is another old Easter custom, especially in the rural parts of Northern Germany.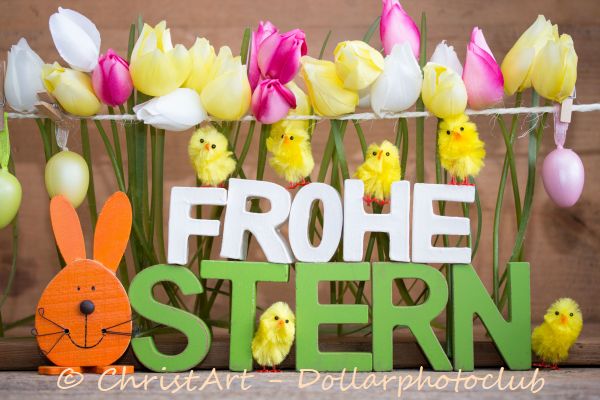 Read these interesting articles about culture, events and history