History of Bamberg
A "Castrum Babenberg" existed on the cathedral hill and was mentioned in 902 for the first time.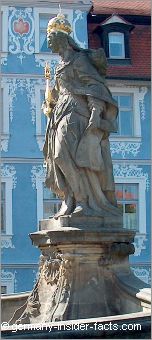 King Heinrich II. founded a diocese in 1007. The first cathedral was consecrated in 1020 by Pope Benedict VIII.
Heinrich II. also founded a Benedictine abbey on the Michaelsberg.
King Heinrich and his wife Kunigunde chose Bamberg as their favourite residence, and they supported the diocese Bamberg with possessions. The royal couple was well educated and religious. In 1014 Henry was crowned Holy Roman Emperor by pope Benedict VIII.
Emperor Henry II dies in 1024, and his wife empress Kunigunde in 1040. They were both canonised and are buried in the cathedral in their beloved Bamberg.
The second bishop Suidger of Bamberg was elected as Pope Clemens II. in 1046. His las resting place in the Bamberg cathedral is the only preserved tomb of a pope north of the Alps.
From the 13th century on bishops were also princes of the German Empire, overseeing the construction of major buildings in the city. Parallel the economical development of Bamberg increased.

Bamberg has a long history in brewing beer, thus it is also known as the city of beer. Especially the dark "smokebeer" is famous around the world.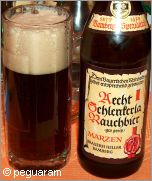 27 years before the German purity law (Deutsches Reinheitsgebot) was issued in 1516, prince-bishop Heinrich III. worried about the quality of beer, and ordered that nothing more than hop, malt and water should be in Bamberg's beer.
At that time beer had already a long tradition in Bamberg. It is documented that bishop Otto I. granted the Benedictine monks at the St. Michael abbey the privilege of brewing beer.
Today, ten private breweries still operate in Bamberg. Many of them, like the "Schlenkerla", have their own unique pubs.
Actually, the
Schlenkerla
(picture right) is my favourite pub in Bamberg, even if the smoked beer is not my cup of tea. But my husband loves it. The pub's authentic interior, the hospitality, and the delicious local food make it a must see place.
Want to know where the name Schlenkerla comes from?
Visit their website for an explanation
.