The Pure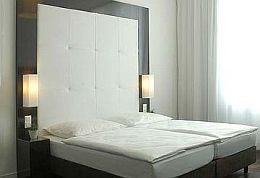 Do you like pure white? Unique design? Then the Pure is the right place for you.
Situated in a 19th century loft, guests find an atmosphere of open spaces, transparency and freedom within the public areas and the individual 50 rooms.
Location
: One block north of the main train station, close to the fair grounds. The city centre is also not far away and can be reached by public transport within minutes.
Check rates for The Pure
* * * * * * *
Adina Apartment Hotel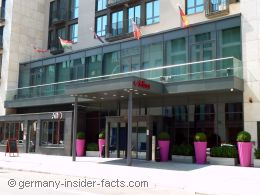 Opened in 2009, this fairly new apartment hotel offers studio rooms with kitchenettes, one and two bedroom apartments with kitchen and laundry.
A swimming pool and fitness area and the restaurant Alto belong to the complex. This is a great place to stay for a couple of days in Frankurt.
Location
: Only one block from the river Main and the new opera house, most Frankfurt attractions are within walking distance. As everywhere in Frankfurt, stops for public transport are not far away.
Check rates for Adina Apartment Hotel
* * * * * * *
Radisson Blu Hotel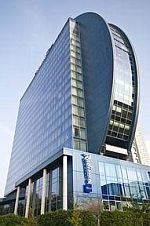 The coin-shaped design of the Radisson Blue hotel is unique in Europe. Inside the hotel also features unconventional and classic decoration. There are four different themes for the 428 rooms. Guests can choose from "at home", "fresh", "chic" or "fashion", all themes are available throughout the room/price categories.
The large windows offer stunning views over the city centre or to the Taunus mountains.
Location
: The Radisson Blu is not really close to the city, so this might be a disadvantage for those guests on a leisure trip. However, there is a tram station close to the hotel. Tram #17 takes you to the Messe (trade grounds) and to the main train station.
Check rates for Radisson Blu Hotel
* * * * * * *
Villa Orange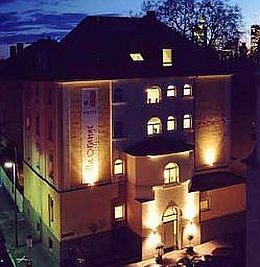 As a certified organic hotel all rooms in the Villa Orange are individually decorated with warm-coloured materials and wooden furniture. Bathrooms are equipped with natural care products, bedding is made from organic cotton, and the breakfast is organic.
The 38 rooms have free wireless LAN, tea & coffee facilites, hair-dryers, air-conditioning. A great little owner-operated hotel with an individual touch.
Location
: In a quiet residential area in Frankfurt's Nordend, only 200m from a U-Bahn station, the hotel is a good place to unwind.
Check rates for the Villa Orange
* * * * * * *