Kreppel - Jam Doughnuts
A reader wrote: "I would like to know the recipe for Kreppel - Jam Doughnuts". So here it is!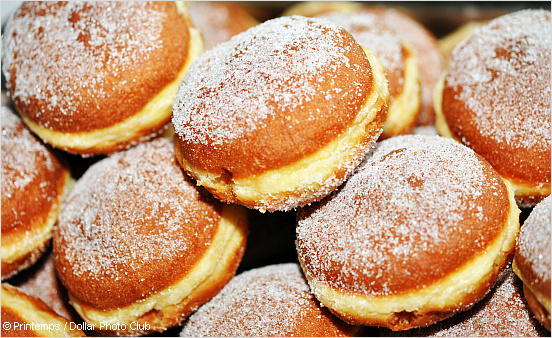 Kreppel Recipe
Jam donuts have many names, depending on the region in Germany. Krapfen, Kreppel, Berliner and Pfankuchen are common names.
Ingredients
*
500g / (4 1/4 cups) pastry flour (Type 405)
*
1 packet dried yeast
*
100g (1/2 cup) butter
*
30g (3 tablespoons) sugar
*
3 drops vanilla essence
*
1 level teaspoon salt
*
2 medium eggs
*
125ml (1/2 cup) milk
*
frying oil
*
icing sugar to cover the Kreppel
*
300g strawberry, raspberry or plum jam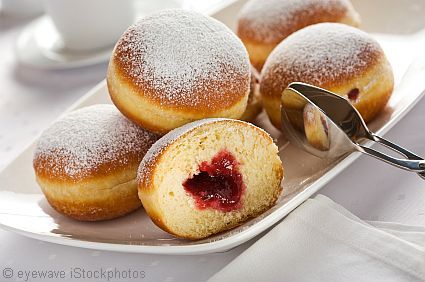 Instructions
*
sift the flour into a mixing bowl, add the dried yeast and mix well
*
melt the butter in warm milk, but don't cook the milk
*
add the milk-butter mixture, sugar, salt, eggs, and vanilla essence to the flour
*
stir with a mixer at low level until ingredients are combined, then mix at high level for about 5 minutes until the dough is smooth
*
cover the dough and let it rise in a warm place until it has doubled in volume (about 30 to 60 minutes)
*
remove the dough from the bowl, sprinkle with flour, knead it briefly
*
form 16 balls of about the same size
*
put the balls onto a floured tea towel, cover with another towel and let the balls rise for 15 to 30 minutes, they must visibly increase in size
*
meanwhile heat the frying oil to 180°C / 350°F
*
put the balls in the hot oil (they shouldn't touch each other) and fry from both sides until they are golden brown
*
remove the cooked Kreppel with a spoon and drain on paper towels
*
mix the jam until smooth, fill into a piping bag or decorating pen with a long tip, pipe the jam into the Kreppel.
If you use cups instead of a scale, please
check this page
for flour facts and gram to cup conversion.
Preparing Kreppel is not difficult, but it needs patience to let the dough rise twice. So don't hurry.
Guten Appetit.
Below are a few articles about favourite holiday destinations. Enjoy your planning!