Vanillekipferl Recipe
Almond crescents belong to the quick and easy Christmas cookie recipes. I am sure, you and your family and friends will love the result!
Directions
Mix the butter, salt, vanilla sugar and egg yolk in a bowl using a hand mixer.

Sift the flour, add ground almonds and flour to the butter mix, and quickly knead a firm dough.

Divide the dough into quarters and form four rolls, each one about 2 to 3cm (0,78 zo 1,18 inch) thick. Cover the rolls with cling wrap and cool them for about an hour.

Flour the worktop and cut the rolls into slices (about as thick as a finger) and form little crescents.

Put the Kipferl on a greased baking sheet, or a sheet lined with parchment paper.

Bake at 160°C / 320°F in a pre-heated oven for 12 to 15 minutes.

Remove the almond crescents carefully with a palette knife.

Fill the icing sugar into a small bowl and dust the Kipferl while they are still warm.

Let the cookies cool completely on a cooling rack.
If you use cups instead of a scale, please check this page for flour facts and gram to cup conversion.
Vanille Kipferl are a wonderful little gift to bring when you visit family and friends during the Christmas season. Don't you agree?
German Christmas Traditions - Get details from an insider...
Amazon Affiliate Link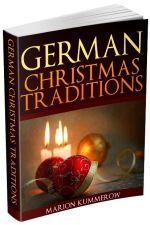 My friend Marion from inside-munich.com shares how we celebrate Christmas in Germany.
It is a very personal book that gives details about all our beloved traditions, including a few original
German Christmas cookies recipes
.
For everyone with German roots or a favour for our country, this book is highly recommended. It makes a lovely Christmas gift.
Christmas Traditions in Germany is available at Amazon.com as ebook for the kindle reader, or paperback when you prefer a real book.
Order German Christmas Traditions Now