Christmas Stollen Recipe
Quarkstollen or Dresden Stollen ?
---
Amazon Affiliate Link
Get details from an insider... click image
My friend Marion shares how we celebrate Christmas.
You can argue whether the stollen recipe with curd cheese (Quarkstollen), or a yeast stollen, based on the original Dresdner Christstollen, is the better German Christmas cake. In my opinion, it is just a point of personal taste. I for one, definitely favour the Quarkstollen.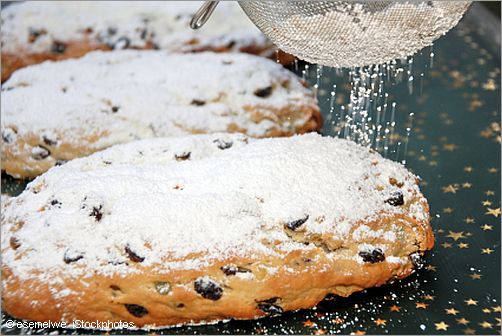 The tradition of Christmas stollen goes back to the 14th century, although the first stollen were rather simple, not as rich as they are today.
The famous Dresdner Stollen is a yeast-based cake, rich and moist. Originally, it was called "Strietzel", and the Christmas market in Dresden is still the Strietzelmarkt.
Since the German reunification Dresdner Stollen is a registered trademark. An "Original Dresdner Stollen" must be produced by one of the about 150 bakeries in and around Dresden.