Vanillekipferl
Homemade German Christmas cookies
---
Vanillekipferl are all-time favourite, traditional German Christmas cookies. Test my Almond Crescents recipe and you'll agree it is an easy German cookie recipe

To be honest, the Kipferl originate from Vienna, Austria. However, the delicious sickle-shaped cookies have been baked in Germany for Christmas for a long time. I can't think of a Christmas without Vanillekipferl. Believe me, they melt in your mouth!


Rita's tip
Before we start with the recipe, here is one hot tip!
For Christmas baking (but also for any other cakes and desserts) make you own vanilla sugar. It has much more aroma and flavour than commercially produced vanilla sugar.
Put approximately 200g sugar into a screw-top jar, slice one Vanilla Bean, remove the pulp with a small spoon and cut the bean into 2 or 3 pieces. Add pulp and the vanilla bean pieces to the sugar. Close the jar and shake well. Let the vanilla sugar rest for a few day, shake occasionally.
Customised Tours
Facts & Events
Travel Tips
German States
Foods & Recipes
Culture & Customs
Vanillekipferl Recipe
Almond crescents belong to the quick and easy Christmas cookie recipes. I am sure, you and your family and friends will love the result!
Ingredients for approx. 25 - 30 Kipferl
260g (2 1/4 cups) pastry flour
2 tablespoons vanilla sugar
100g (1/2 cup) ground almonds
1 egg yolk
200g (1 cup) soft butter
1 pinch of salt
2 tabelspoons icing sugar to dust the kipferl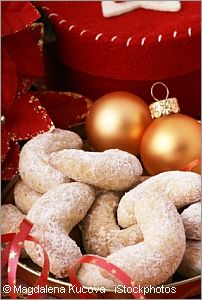 Directions
Mix the butter, salt, vanilla sugar and egg yolk in a bowl using a hand mixer.

Sift the flour, add ground almonds and flour to the butter mix, and quickly knead a firm dough.

Divide the dough into quarters and form four rolls, each one about 2 to 3cm (0,78 zo 1,18 inch) thick. Cover the rolls with cling wrap and cool them for about an hour.

Flour the worktop and cut the rolls into slices (about as thick as a finger) and form little crescents.

Put the Kipferl on a greased baking sheet, or a sheet lined with parchment paper.

Bake at 160°C / 320°F in a pre-heated oven for 12 to 15 minutes.

Remove the almond crescents carefully with a palette knife.

Fill the icing sugar into a small bowl and dust the Kipferl while they are still warm.

Let the cookies cool completely on a cooling rack.
If you use cups instead of a scale, please check this page for flour facts and gram to cup conversion.
Vanille Kipferl are a wonderful little gift to bring when you visit family and friends during the Christmas season. Don't you agree?
Advertisement
Order Original German Christmas Treats
Schmidt Lebkuchen are the best! Fortunately, for all Lebkuchen & cookie lovers in the US, the original products from Nuremberg are available at Amazon.com
Choose one of the decorative tin chests filled with delicious ginger bread and you'll have a perfect Christmas gift for your family & friends, or for yourself.


Disclosure: Some links on this page are affiliate links. This means when you buy a product through one of these links, for example at Amazon.com, I earn a small commission (there is no extra cost for you). This money helps me to maintain this website and provide the free information for you. Thank you in advance for your support.
Click an image to shop for Lebkuchen at Amazon.com
Affiliate Links
Don't miss the cookie recipes and my other Christmas pages
Do you like this page? Your friends might enjoy it too. Please share, thank you - danke
Copyright © 2010- Rita Amend.
ALL RIGHTS RESERVED