Christmas Butter Cookies Recipe
Home-made German Butterplätzchen & Heidesand
---
The result of my butter cookies recipe is tempting. Crisp and smooth, these German cookies melt in your mouth.
Butter cookies are eaten all year round, think of the well-known Danish butter cookies in the tin box.



However, the Butterplätzchen we bake for Christmas in Germany are different. They are much thinner and come in typical Christmas shapes like stars, bells, moons and Christmas trees. Butter cookies recipes are usually simple, based on a shortcrust pastry dough. What makes them a favourite Christmas cookie is the fact that kids love to help and decorate the Plätzchen with sugar sprinkles, chocolate, smarties and coarse sugar.
Butter Cookies Recipe - German Butterplätzchen
Ingredients for approx. 50 Cookies
150g (1 1/4 cups) pastry flour (Type 405)
75g (3/8 cup) sugar
1 teaspoon vanilla sugar
1 egg yolk
100g (1/2cup) butter
---

For decoration
1 egg yolk
1 tablespoon milk
sugar & chocolate sprinkles
coarse sugar
Directions

Sift the flour on a board, cut the cold butter, put the egg yolk, sugar and butter chunks on top of the flour.

Blend the ingredients by chopping with a large knife or palette knife until you get a crumbly mix.

Then use your cool hand to quickly knead a smooth dough. There shouldn't be any butter pieces left in the dough.

Wrap the dough in cling-film and refrigerate it for 1 hour.

Dust a board and rolling pin with flour, roll out the dough 3 - 4 mm thin.

Dust cookie cutters with flour and cut out the Butterplätzchen, put them on a baking sheet lined with parchment paper.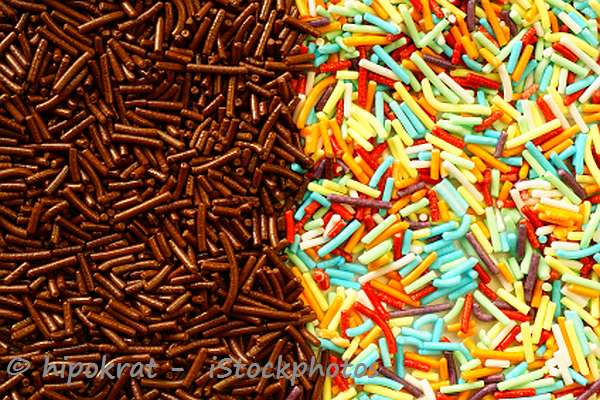 Decorate Butterplätzchen with chocolate & sugar sprinkles

Decorate the butter cookies
Whisk the egg yolk with 1 tablespoon milk, brush the cookies thinly.

Now you, can decorate the Butterplätzchen with coarse sugar, coloured sugar or chocolate sprinkles. This would be the most traditional way to decorate them.

Bake at 180°C / 356°F for 8 to 10 minutes until golden.

Let the cookies cool on a cooling rack, store them in a tin box.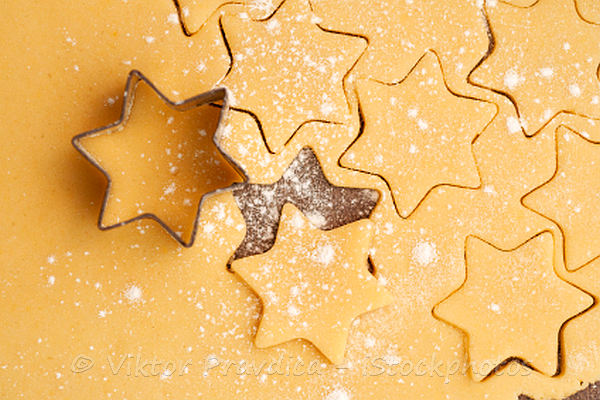 Cutting butter cookies

If you use cups instead of a scale, please check this page for flour facts and gram to cup conversion.
Butter Cookies Recipe - German Heidesand
Heidesand is another favourite kind of butter cookies, especially in Lower-Saxony. These cookies got their name from their texture, they are crumbly like baked sand. Heidesand is just delicious.
Ingredients for approx. 50 Plätzchen
250g (1 1/8 cup) soft butter
125g (5/8 cup) sugar
125g (1 cup) almonds, grounded
375g (3 1/8 cups) pastry flour (Type 405)
2 tablespoons sugar to coat the cookies
Directions
Carefully heat the butter in a pan until it is light brown. Let it cool down and put it into a mixing bowl.

When the butter is firm whisk with a hand mixer until foamy, add sugar, continue whisking for about 10 minutes to get a thick white cream.

Add almonds and the sifted flour, knead to get a firm dough.

Form a 3 to 4 cm thick roll. With a sharp knife cut 5 -7 mm thick cookies.

Coat the cookie's edges with sugar and place them on a baking sheet lined with parchment paper.

Bake at 150°C / 302°F for 20 to 25 minutes until golden.

Let the cookies cool on a cooling rack, store them in a tin box.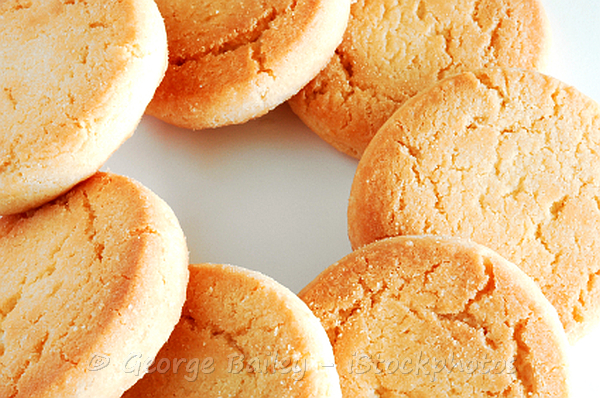 Heidesand Cookies - The texture reminds on baked sand. I love them.
Rita's Tips
Don't put the the cookies too close together on the baking sheet, leave some space between them.
Cookies can burn quickly, always watch them while they are in the oven.
Ovens are different, baking time might differ.
Now did I make your mouth water? Check out my other Christmas cookie recipes.
Happy baking!
Don't miss the cookie recipes and my other Christmas pages
Recipes for butter cookies