Buying German Christmas Cookies
If you don't like baking but love the taste of good German cookies, there is a wide range you can buy in Germany, even online if you live abroad. Bakeries sell really nice Weihnachtsplätzchen, you get homemade cookies at Christmas markets, and even industrial made biscuits are enticing. Of course you'll miss the wonderful smell in the house if you don't bake yourself.

In my opinion, some German Christmas sweets require too much work to make them at home, Dominosteine for example.

My mother and I have never been successful Lebkuchen (German gingerbread) bakers, they often turned out too hard. Sure, there is the recommendation to put hard gingerbread Lebkuchen into a tin box, add a few slices of apples and wait for a week.

However, if you have ever tasted the soft and delicious Nuremberg Lebkuchen, traditionally made by Lebkuchen Schmidt in Nuremberg, you might change your mind about homemade gingerbread.
Order Original German Christmas Treats
Schmidt Lebkuchen are the best! Fortunately, for all Lebkuchen & cookie lovers in the US, the original products from Nuremberg are available at Amazon.com
Choose one of the decorative tin chests, filled with delicious ginger bread, and you'll have a perfect Christmas gift.

Disclosure: Some links on this page are affiliate links. This means when you buy a product through one of these links, for example at Amazon.com, I earn a small commission (there is no extra cost for you). This money helps me to maintain this website and provide the free information for you. Thank you in advance for your support.
Click an image for details
Amazon Affiliate Links
Schmidt Nuremberg Winter Chest 2015
---
Schmidt Advent Calendar House 2015
---
Taylor Digital Measuring Cup and Scale
---
German Christmas Traditions - Get details from an insider...
Amazon Affiliate Link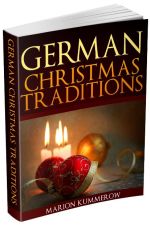 My friend Marion from inside-munich.com shares how we celebrate Christmas in Germany.
It is a very personal book that gives details about all our beloved traditions, including a few original
German Christmas cookies recipes
.
For everyone with German roots or a favour for our country, this book is highly recommended. It makes a lovely Christmas gift.
Christmas Traditions in Germany is available at Amazon.com as ebook for the kindle reader, or paperback when you prefer a real book.
Order German Christmas Traditions Now