German Christmas Markets
Get into Christmas mood - discover magic places in Germany
---
Experience the magic of German Christmas markets which are held in nearly every town and city.
Historical town squares form a romantique backdrop to many markets. Streets, pedestrian malls, public buildings and shops are decorated with lights and Christmas trees and add to the beauty of the scenery.
Without doubt, Christmas markets in Germany are unique and should not be missed!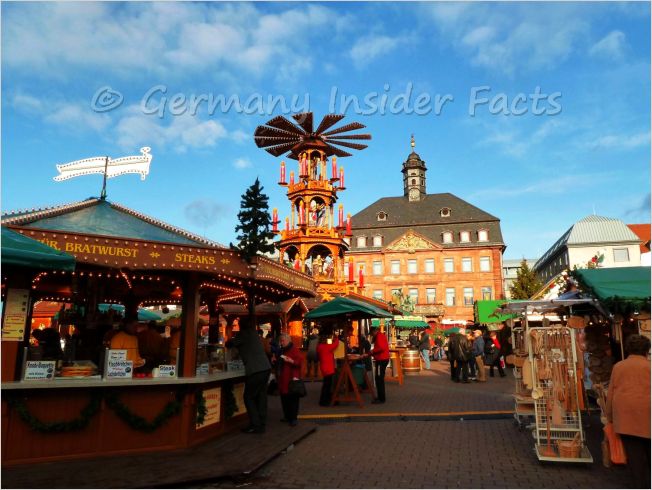 Christmas markets are known as Weihnachtsmarkt, Christkindlesmarkt, Christkindchesmarkt and Christkindlmarkt. They usually open on the Friday before the first Advent and close one or two days before Christmas Eve.
The oldest markets date back to the 14th and 15th century. The original purpose of these early markets was to stock up for the long winters, and to add a bit of light to the dark months. The first markets were certainly not as enchanting as they are these days. During the centuries Christkindlmarkets became a source to buy Christmas presents for children, and an opportunity for local craftsmen and artists to sell their work.
How to visit German Christmas Markets?
Once you are in Germany, it is easy to visit the markets, they are held in nearly every town and city.

Okay, I guess you already have a plan, and you know which markets you want to see? Travelling on your own using German rail is a good way to get around in Germany in winter. You'll never know what the weather is like. For the romantic feeling you wish there will be snow, but snow could spoil the fun when you have to drive.
Don't want to visit Christmas markets in Germany on your own? No problem! What about hiring a personal driver & guide (See info below)? This would be the most relaxed way to enjoy your Weihnachtsmarkt experience in Germany.
Hi Rita, Just wanted to touch base again and say thank you for all of your tips and putting us in touch with Markus. We ended up hiring Markus to do Rothenburg and Nuremberg on Friday and then he took us to Freiburg, Gengenbach, Baden Baden and Speyer on Saturday. He was wonderful. He spent 12 hour days with us and there wasn't anything I asked of him that he didn't do it.
We loved Germany & hope to come back again & maybe do a couple of the bigger cities. Again, thanks for your assistance and all the best, Ellen.
What can you expect from German Christmas Markets?
Romantic scenery, an easy-going atmosphere, German Christmas tradtitions and the smell of mouth-watering treats are the main attractions of a Weihnachtsmarkt in Germany. If you don't like the pace of modern, commercialised Christmas, a visit to German Christmas markets is just right for you. There is no hectic, everything happens in a lower gear.

Come along and enjoy, join a tour, or discover the magic of Christmas in Germany on your own. You will find ...
Soothing traditional Christmas music, often performed by local orchestras and musicians.
Colourful Christmas decorations, nutcrackers, crib figurines and cribs, marionettes, candle arches from the Erzgebirge and toys.
Mulled wine (Glühwein), hot cider (Äpplewoi) and other hot drinks to keep you warm.
Homemade chocolates, candy floss, candied almonds, roasted chestnuts, Stollen, delicious Christmas cookies, gingerbread and of course all variations of Bratwurst and hearty food.
Although it seems that all Christkindlesmarkets offer the same range of goods to buy, there are many local variations. Additonal cultural programs, local arts & crafts markets, the scenery and surrounding architecture make each German Christmas market unique.
Look around and find some unique Christmas gifts for your loved ones.
One thing is for sure, you'll never leave a Weihnachtsmarkt hungry. I don't envy you the hard decision which market to visit! :)
Famous German Christmas Markets
There are hundreds of Christmas markets and fairs in Germany, larger cities even have more than one! Now where to start?

Below I am going to list a few of the most famous Christkindlmarkets, some in truly scenic towns. However, when you decide to visit Germany for her Christmas markets, you should also pay attention to markets in tiny villages. They are also worth a visit. Just ask at your destination for unique markets in their surroundings. Weihnachtsmärkte in small villages are held on one weekend only during the Advent season.
Advertisement
Augsburg (Bavaria)
The Augsburg Christkindlesmarkt is held in front of the Renaissance town hall on the Rathausplatz (town hall square). It is one of the oldest markets dating back to the 15th century. Well-known and most unique is the "Angel's Play" performed on Fridays, Saturdays and Sundays at 6:00 pm. The 24 angels turn the town hall into a giant Adventscalendar.
Bamberg (Bavaria)

The World Heritage City has the most romantic backdrop for the Christmas season. The Bamberg Christmas market is held on Maxplatz in the heart of the Old Town. At the end of the square is a large nativity scene showing different scenes during Advent.
Additionally to the main market, smaller markets are held only on one weekend throughout the historical city.

Bamberg is famous for its nativity trail. Discover more than 400 nativity scenes which are spread across 40 stations in Bamberg's old city, churches, museums, public buildings and the cathedral. The nativity scenes tell various biblical stories surrounding Advent.
Cologne (North-Rhine Westphalia)
Seven Christmas different markets in Cologne attract millions of visitors to the city on the Rhine every year.
The market at the
Cologne Cathedral
) is the biggest, and with the majestic cathedral as a background, it is one of the most impressive Christmas markets in Germany.
Read more about the markets in Köln
.
Dresden (Saxony)
The Strietzelmarkt in Dresden dates back to 1434. The name Strietzel comes from the Dresdner Christstollen, that rich Christmas cake the city is also famous for. Although the Strietzelmarkt attracts many visitors, it is a very traditional market with a romantic and festive charme. Carved wooden items from the Erzgebirge and delicious ocal food is sold at the stalls. The world's largest Christmas pyramid (14 m high) stands at the heart of the market.
Frankfurt (Hessen)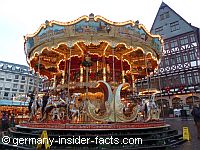 The
Weihnachtsmarkt in Frankfurt
is one with many superlatives. Dating back to 1393 it is one of the oldest in Germany, with 200 stalls on the Römerberg and surrounding lanes it is one of the biggest, and it attracts more than 3 million visitors every year.
With a pretty scenery, a huge Christmas tree and yummy baked goods, it is one of the most beautiful German Christmas markets. Why else are "Frankfurter Weihnachtsmärkte" held in Great Britain as well?
Read more about the Frankfurt Christmas Market
Hanau (Hessen)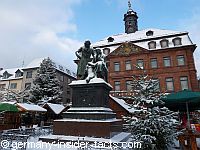 Compared with the big ones, the
Christmas market in Hanau
has a relaxed and personal atmosphere.
Held on the market square, the wooden stalls offer arts and crafts, Christmas decorations and good food.
The town hall is transformed into an huge advent calendar, every night a new window is lit and the Brothers Grimm watch the christmassy activities.
Oh, and every now and then we really have snow during Advent!
Jena (Thuringia)
The Weihnachtsmarkt in Jena offers an unique atmosphere in the heart of the historic old town. On the opening day a 4m long Stollen is cut.
Leipzig (Saxony)
The Leipziger Weihnachtsmarkt features the world's largest free-standing advent calendar, a fairytale forest and a medieval market.
Nuremberg (Bavaria)
The famous
Nuremberg Christkindlesmarkt
is held on Hauptmarkt square in the old town. 180 wooden stalls, decorated with red and white cloths gave the market its name "Little town from Wood and Cloth." The Nuremberg Christkindlesmarkt is opened by a real "angel".
Nürnberg is also home of the famous Nürnberger Lebkuchen. You'll find a
Lebkuchen Schmidt
shop to buy this delicious treat right on the Hauptmarkt.
If you don't have the chance to go to Nuremberg, you'll find a wide range of original
Schmidt Lebkuchen
at Amazon.com or one of the other offers. The decorative chests are just beautiful.
Rothenburg ob der Tauber (Bavaria)
The romantic medieval town is home to one of the prettiest Christmas markets in Germany. Rothenburg's Reiterlesmarkt is held between the town hall and St. Jacob's Church with a lovely backdrop of old houses. With snow, it is a winter wonderland.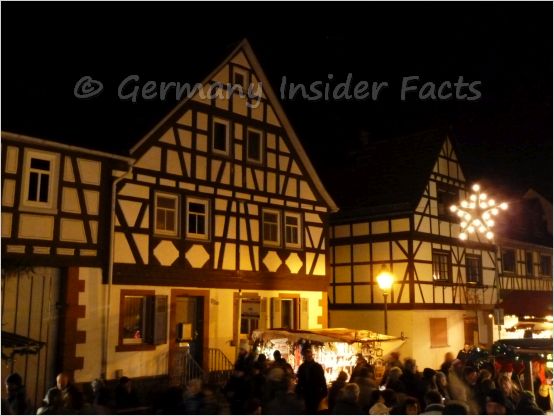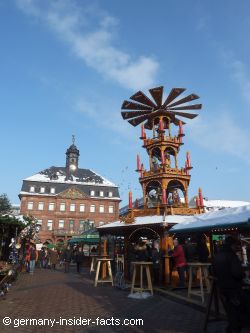 Christmas Market in Hanau
German Christmas Treats
Want to bring a bit of good old German Christmas feeling to your home?
Here are some suggestions for you.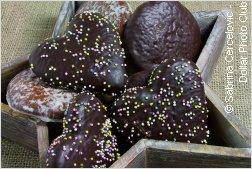 Schmidt Lebkuchen are the best! Fortunately, for all Lebkuchen & cookie lovers in the US, the original products from Nuremberg are available from
late October until Christmas
at Amazon.com
Choose one of the decorative tin chests filled with delicious ginger bread and you'll have a perfect Christmas gift.
Disclosure: Some links on this page are affiliate links. This means when you buy a product through one of these links, for example at Amazon.com, I earn a small commission (there is no extra cost for you). This money helps me to maintain this website and provide the free information for you. Thank you in advance for your support.
Affiliate Links
Click image for details
---
---
Amazon Affiliate Link
Get details from an insider... click image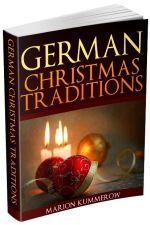 My friend Marion shares how we celebrate Christmas.
---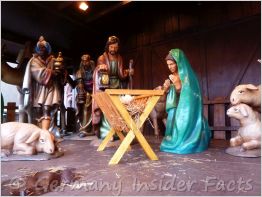 Nativity Scene Frankfurt
I will always remember how much I enjoyed the Christmas crib as a child. A nativity scene truly belongs to Christmas!
Hotel Search
Looking for a nice hotel after visiting all those beautiful Weihnachtsmärkte?
Use the seach box to check out hotels and compare rates for any German city.
Affilate Link


Travel by Train
Travelling by train is the easiest way to get around in Germany, especially in winter.
Read more about public transport in my train travel guide