German Strawberry Tart Recipe
This is a quick and easy recipe. It is a little bit like a sponge cake, but not so soft and delicate. If you are in a hurry, you can even use a ready-make sponge cake to make a yummy Erdbeerkuchen.
Directions
Put the eggs into a mixing bowl, use a handmixer at the highest speed and whisk the eggs, add the sugar, vanilla sugar, salt and the soft butter.

Continue whisking until the mixture is foamy.

Add the sifted flour and baking powder.

Grease a flat baking pan, sprinkle the pan with fine breadcrumbs, and fill in the dough and flatten.

Bake in the preheated oven at about 200°C / 400°F for about 12 to 15 minutes until golden.

Remove the cake and let it cool down on a wire rack.

Wash and hull the strawberries, and put the whole fruits on the pastry.

Cook a jelly-like glaze to coat the strawberries, you'll get Dr. Oetker Tortenguss Rot (Red Cake Glaze )
at Amazon.com to prepare such a glaze.
Rita's Tip
Another way to glaze your Erdbeerkuchen is to use strawberry jam. Heat 3 tablespoons jam in a pot, use a cooking brush to spread the jam on the strawberries. The result looks better, and the taste is just delicious.
Variations
Cook a firm vanilla pudding and spread it on the cake case, then top it with the strawberries.
Sprinkle the cake with almond slivers.
Use a shortcrust pastry base for your strawberry cake.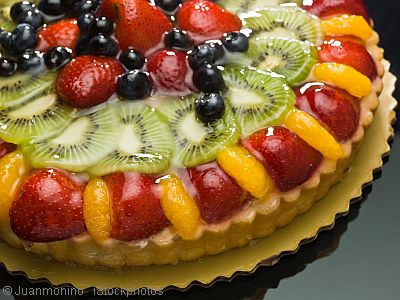 Fruit tart with mixed fruits
Of course you can prepare any other fruit tart (Obstkuchen) with this dough recipe. Fill the tart with fresh peaches, apricots, cherries, or berries, whatever is in season. If no fresh fruits are available, you can use preserved fruits as well.
Enjoy your strawberry tart with whipped cream. Guten Appetit.