German Strawberry Tart Recipe
Easy Fruit Tart (Obstkuchen)
---
Strawberry tart is a favourite German fruit cake in summer. When strawberries are in season we Germans love a delicious Erdbeerkuchen.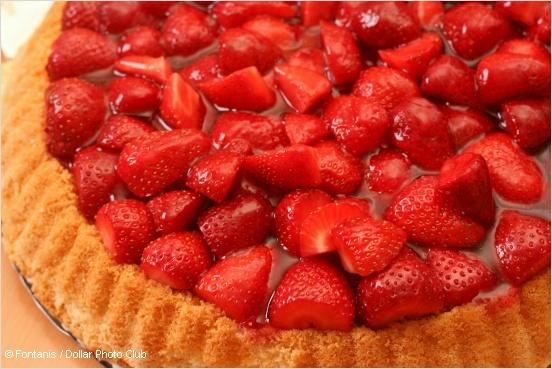 Don't you love the smell of fresh strawberries (Erdbeeren)? Strawberries are seasonal, and you'll get local fruits from late May until August. In my opinion, strawberries are the best in June and July.
It is a favourite pastime for families to go to strawberry fields and pick (and nibble) the delicious red fruits to make strawberry jam, and all kind of wonderful desserts.
Subscribe To Our
Facts & Events
Travel Tips
German States
Foods & Recipes
Culture
German Strawberry Tart Recipe
This is a quick and easy recipe. It is a little bit like a sponge cake, but not so soft and delicate. If you are in a hurry, you can even use a ready-make sponge cake to make a yummy Erdbeerkuchen.
Ingredients for approx. 8 -10 pieces
For the dough:
3 eggs
75g (3/8 cup) sugar
75g (1/3 cup) soft butter
1 packet Vanilla sugar
1 pinch salt
150g (1 1/4 cup) pastry flour (Type 405)
1 teaspoon baking powder
---
1 - 2 boxes strawberries
3 tablespoons strawberry jam
Directions
Put the eggs into a mixing bowl, use a handmixer at the highest speed and whisk the eggs, add the sugar, vanilla sugar, salt and the soft butter.

Continue whisking until the mixture is foamy.

Add the sifted flour and baking powder.

Grease a flat baking pan, sprinkle the pan with fine breadcrumbs, and fill in the dough and flatten.

Bake in the preheated oven at about 200°C / 400°F for about 12 to 15 minutes until golden.

Remove the cake and let it cool down on a wire rack.

Wash and hull the strawberries, and put the whole fruits on the pastry.

Cook a jelly-like glaze to coat the strawberries, you'll get Dr. Oetker Tortenguss Rot (Red Cake Glaze )
at Amazon.com to prepare such a glaze.
Rita's Tip
Another way to glaze your Erdbeerkuchen is to use strawberry jam. Heat 3 tablespoons jam in a pot, use a cooking brush to spread the jam on the strawberries. The result looks better, and the taste is just delicious.
Variations
Cook a firm vanilla pudding and spread it on the cake case, then top it with the strawberries.
Sprinkle the cake with almond slivers.
Use a shortcrust pastry base for your strawberry cake.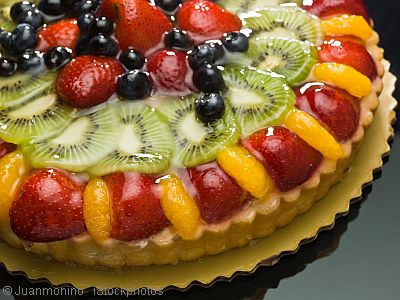 Of course you can prepare any other fruit tart (Obstkuchen) with this dough recipe. Fill the tart with fresh peaches, apricots, cherries, or berries, whatever is in season. If no fresh fruits are available, you can use preserved fruits as well.

Enjoy your strawberry tart with whipped cream. Guten Appetit.
Discover the German cuisine
Want to find more delicious German recipes? Here are some recommended books for you available through Amazon.com

Disclosure: Some links on this page are affiliate links. This means when you buy a product through one of these links, for example at Amazon.com, I earn a small commission (there is no extra cost for you). This money helps me to maintain this website and provide the free information for you. Thank you in advance for your support.
Click an image for details
Amazon Affiliate Links
Getting hungry? Try these delicious German cakes & cookies
Do you like this page? Your friends might enjoy it too. Please share, thank you - danke
Copyright © 2010-2016 Rita Amend.
ALL RIGHTS RESERVED