Christmas Butter Cookies Recipe
Homemade German Butterplätzchen & Heidesand
---
The result of my butter cookies recipe is tempting. Crisp and smooth, these German cookies melt in your mouth.
Butter cookies are eaten all year round, think of the well-known Danish butter cookies in the tin box.
However, the Butterplätzchen we bake for Christmas in Germany are different. They are much thinner and come in typical Christmas shapes like stars, bells, moons and Christmas trees. Butter cookies recipes are usually simple, based on a shortcrust pastry dough. What makes them a favourite Christmas cookie is the fact that kids love to help and decorate the Plätzchen with sugar sprinkles, chocolate, smarties and coarse sugar.
Butter Cookies Recipe - German Butterplätzchen
Ingredients for approx. 50 Cookies
150g (1 1/4 cups) pastry flour (Type 405)
75g (3/8 cup) sugar
1 teaspoon vanilla sugar
1 egg yolk
100g (1/2cup) butter
---
For decoration
1 egg yolk
1 tablespoon milk
sugar & chocolate sprinkles
coarsed sugar
Directions
Sift the flour on a board, cut the cold butter, put the egg yolk, sugar and butter chunks on top of the flour.

Blend the ingredients by chopping with a large knife or palette knife until you get a crumbly mix.

Then use your cool hand to quickly knead a smooth dough. There shouldn't be any butter pieces left in the dough.

Wrap the dough in clingfilm and refrigerate it for 1 hour.

Dust a board and rolling pin with flour, roll out the dough 3 - 4 mm thin.

Dust cookie cutters with flour and cut out the Butterplätzchen, put them on a baking sheet lined with parchment paper.
If you use cups instead of a scale, please check this page for flour facts and gram to cup conversion.
Decorate the butter cookies
Whisk the egg yolk with 1 tablespoon milk, brush the cookies thinly.

Now you, can decorate the Butterplätzchen with coarse sugar, coloured sugar or chocolate sprinkles. This would be the most traditional way to decorate them.

Bake at 180°C / 356°F for 8 to 10 minutes until golden.

Let the cookies cool on a cooling rack, store them in a tin box.
Decorate Butterplätzchen with chocolate & sugar sprinkles
Butter Cookies Recipe - German Heidesand
Heidesand is another favourite kind of butter cookies, especially in Lower-Saxony. These cookies got their name from their texture, they are crumbly like baked sand. Heidesand is just delicious.
Ingredients for approx. 50 Plätzchen
250g (1 1/8 cup) soft butter
125g (5/8 cup) sugar
125g (1 cup) almonds, grounded
375g (3 1/8 cups) pastry flour (Type 405)
2 tablespoons sugar to coat the cookies
Directions
Carefully heat the butter in a pan until it is light brown. Let it cool down and put it into a mixing bowl.

When the butter is firm whisk with a handmixer until foamy, add suggar, continue whisking for about 10 minutes to get a thick white cream.

Add almonds and the sifted flour, knead to get a firm dough.

Form a 3 to 4 cm thick roll. With a sharp knife cut 5 -7 mm thick cookies.

Coat the cookie's edges with sugar and place them on a baking sheet lined with parchment paper.



Bake at 150°C / 302°F for 20 to 25 minutes until golden.

Let the cookies cool on a cooling rack, store them in a tin box.
German Christmas Traditions - Get details from an insider...
Amazon Affiliate Link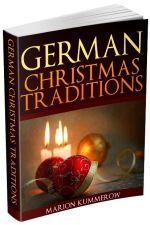 My friend Marion from inside-munich.com shares how we celebrate Christmas in Germany.
It is a very personal book that gives details about all our beloved traditions, including a few original
German Christmas cookies recipes
.
For everyone with German roots or a favour for our country, this book is highly recommended. It makes a lovely Christmas gift.
Christmas Traditions in Germany is available at Amazon.com as ebook for the kindle reader, or paperback when you prefer a real book.
Order German Christmas Traditions Now
Rita's Tips
Don't put the the cookies too close together on the baking sheet, leave some space between them.
Cookies can burn quickly, always watch them while they are in the oven.
Ovens are different, baking time might differ.
Now did I make your mouth water? Check out my other Christmas cookie recipes. Happy baking!
Freshly baked cookies on a tray
Don't have time for Christmas baking? Check out original German Lebkuchen & other goodies below.
Order Original German Christmas Treats
Schmidt Lebkuchen are the best! Fortunately, for all Lebkuchen & cookie lovers in the US, the original products from Nuremberg are available at Amazon.com
Choose one of the decorative tin chests filled with delicious ginger bread and you'll have a perfect Christmas gift.


Disclosure: Some links on this page are affiliate links. This means when you buy a product through one of these links, for example at Amazon.com, I earn a small commission (there is no extra cost for you). This money helps me to maintain this website and provide the free information for you. Thank you in advance for your support.
Click an image for details
Affiliate Links
---
---
---
Taylor Digital Measuring Cup and Scale
---