Pork Schnitzel Recipe
The German variant of Wiener Schnitzel
A step-by-step Schnitzel Guide
---
My schnitzel recipe is not only a traditional and well-loved German food recipe, this is also an illustrated guide to show you how get the best results cooking a German Schweineschnitzel (pork schnitzel).

Wiener Schnitzel is protected by law in Germany and Austria and must be made of veal (Kalbsschnitzel). It is traditionally coated with breadcrumbs (paniert), garnished with a lemon slice and served with potatoes or chips.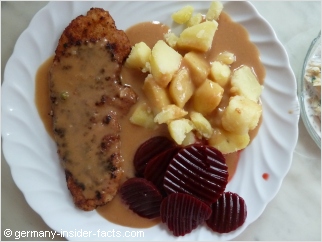 My homemade Schnitzel with pepper sauce, potatoes and beetroot.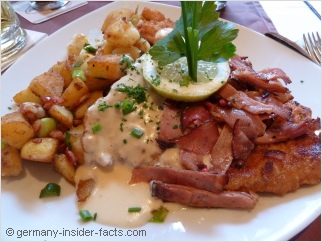 Delicious Schnitzel Black Forest served at Restaurant Gambrinus in Hanau-Steinheim.
---
When you see Schnitzel Wiener Art on a menu in a German restaurant a Schweineschnitzel will be served. From the look you can hardly differentiate between the two schnitzel variants, but sometimes from the price. Veal is normally a little more expensive than pork, and the cooked meat is slightly brighter than pork.
And the taste? Schweineschnitzel and Kalbsschnitzel are both delicious, but I prefer the pork variant.
Schnitzel Facts & Variations
Schnitzels are a favourite dish in the German cuisine. Common variations are...
Jägerschnitzel - with mushrooms in a dark gravy or creamy sauce
Zigeunerschnitzel - with a spicy tomato sauce, paprika, onions and red peppers
Zwiebelschnitzel - covered with fried onions, served with or without sauce
Rahmschnitzel - in a creamy sauce
Regional variations are
Holsteinschnitzel
topped with a fried egg, capers and anchovies, while the
black forest schnitzel
is topped with fried black forest bacon. Oh, and not to forget my favourite:
Frankfurterschnitzel
with green sauce.
Facts & Events
Travel Tips
German States
Foods & Recipes
Culture & Customs
Many restaurants in Germany have a Schnitzeltag once a week, you'll get all schnitzels for a special price at that day.
Schnitzel with toppings and sauces might be served with breadcrumbs (paniert) or unbreaded (natur) in restaurants. If you prefer one or the other variant, just ask the waitress how it will be served.
Schnitzel Recipe - Step by Step Guide
Did I make your mouth water by now? Great, then let's start cooking.
Schnitzel Recipe - Ingredients
1 schnitzel per person, about 150g to 200g
flour
1 scrambled egg (for 2 schnitzels)
breadcrumbs
vegetable oil or butter for frying
You can prepare your schnitzel with different meats, veal, pork, turkey or chicken. The breading process would be the same.

In the first photo below you see Schweineschnitzel, cut from what we call the Oberschale of a pork in Germany. The English translation could be leg / ham / or gammon.
Look at this photo in a German food guide
to tell your butcher which piece of meat you need.
Step 1
Prepare 3 plates with flour, egg and breadcrumbs
Briefly rinse the meat with cold water
Dry between kitchen paper
Pound the meat thin on a wooden or plastic board using a meat tenderiser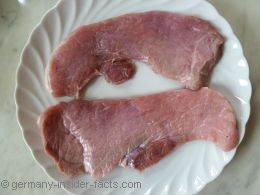 Step 2
Turn around the meat in the flour, shake off excessive flour
Turn around the meat in the egg, let the egg drip off
Put the schnitzel on a plate, season with salt and ground pepper on both sides
Finally, turn around the meat in the breadcrumbs, again shake off excessive crumbs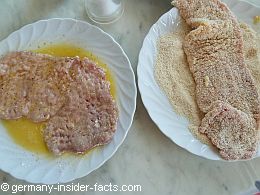 Step 3
Heat vegetable oil or butter in a nonstick frying pan, use a size that the schnitzel(s) fit in easily
Fry them at high to medium heat for about 15 minutes until golden brown, turn around the schnitzels frequently
Drip the fat on paper towel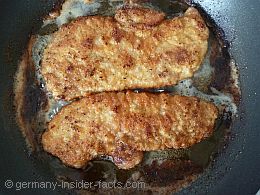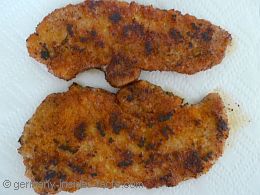 Step 4
Serve schnitzels with pommes frites (chips, french fries), potato salad or boiled potatoes, along with a sauce, vegetables or salad to suit your taste.
Enjoy your meal!

By the way, breaded schnitzels can be eaten cold as well. For a quick snack, a Schnitzelbrötchen (bread roll with schnitzel) is a well-loved dish. If you plan to eat them cold, it is important to remove the fat as good as possible after frying.
Guten Appetit!
Rita's Tips for best results
Don't season the meat at the beginning of the breading process. Salt extracts fluids from the meat and the breading won't stick.
Always add enough fat to the pan, even if you use a nonstick frying pan. The breadcrumbs will burn easily in a dry pan, and a dry crumbing just doesn't taste well.
---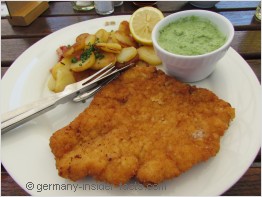 This is a Frankfurter Schnitzel, served with fried potatoes and Green Sauce.
It is a favourite of mine which you will only find in the Frankfurt area.
Now did I make your mouth water? Don't miss my other German food recipes!
Copyright © 2010- Rita Amend.
ALL RIGHTS RESERVED