Traditional German Potato Salad Recipes
What is the best Kartoffelsalat recipe?
---
We have more than one authentic German potato salad recipe. After all, Kartoffelsalat is a traditional German food, therefore you will find different recipes throughout Germany. Kartoffelsalat is a favourite side dish of the German cuisine.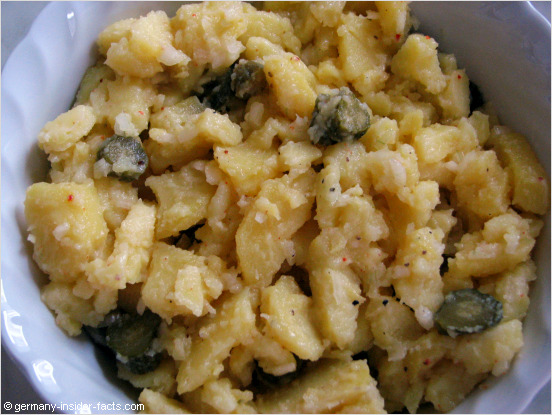 There is some sort of "war" going on whether traditional German potato salad should be made with mayonaise, or with vinaigrette. People of northern Germany prefer the mayo version, while in the south vinaigrette is used. Of course, there is no "right" or "wrong" answer, it is just a matter what people are used to.
When is potato salad traditionally eaten?
Kartoffelsalat is a must to have at a grill party! You will find it also on menues at beergardens and at any place that serves short snacks.
Potato salad goes with all kind of sausages, fish and Schnitzel. In southern regions it is also part of a mixed salad served with a main dish.
When I was a kid, we had potatoe salad with sausages on Christmas Eve. This is still common in some families and regions.