Population of Germany - Population Density
The average number is 230 people per km2 for the entire country. However, as you can see on the map, population density varies significantly from east to west.

There has always been an east-to-west movement since the 19th century.
At first, people from Prussia and Silesia (German territories at that time) went to the Rhine-Ruhr area to work in the steel mills.

Then, after WWII, Germans fled from these eastern regions (which then became part of Poland and Russia) to Germany. The east to west migration continued until 1961, when the Berlin Wall was built, and the last possibility to escape from Eastern Germany was closed.

After the wall fell in 1989, many people from the east moved westwards, mostly for economic reasons.
Also, within East and West Germany citizens moved from rural areas to the cities.

The map below gives you a good overview where people live. Check out the German States page to see how many people live in each state.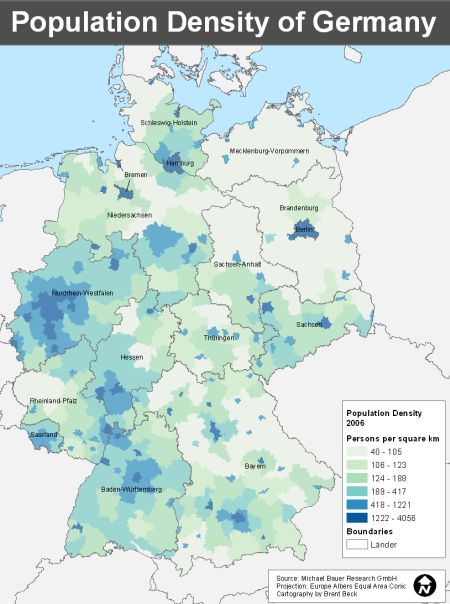 Germany has only four cities with a population of more than one million, Berlin, Munich, Hamburg and Cologne. But there are 11 Metropolitan areas which are the most densely populated regions. The biggest, and economically most important regions are:
Rhine-Ruhr Metropolitan Region with Cologne as the largest city
Frankfurt and the Rhine-Main Region
Berlin/Brandenburg Metropolitan Region
Munich Metropolitan Region
Hamburg Metropolitan Region
Roughly 32 Million people live in these 5 metropolitan areas.
Although it has only approximately 650,000 inhabitants,
Frankfurt
is Germany's most international city. After all, Frankfurt is the economic and financial centre of Germany, and home of the European Central Bank Headquarter. Hence Frankfurt's nick name: Bankfurt!
See my page about
Frankfurt attractions
to read more about this thriving city.