History of the flag of Germany
The colours black, red and gold have been a symbol in German history since the Middle Ages. Although a German flag was not always common during the centuries, emperors of the Holy Roman Empire used a golden shield with a black eagle with a red beak and red claws.

After the end of the Holy Roman Empire and the Napoleonic Wars the colours black, red and gold represented the desire for an united Germany and freedom for all citizens.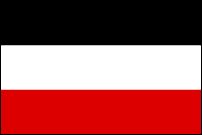 The first
black-red-gold
tricolour appeared in the 19th century. The Frankfurt Parliament of 1848 proposed it as the flag for an united and democratic Germany.
However, with the foundation of the German Empire (1871-1918), a
black-white-red
tricolour became the flag of the empire (Deutsches Reich). It was also the German flag during the Nazi regime from 1933 to 1945, along with the swastika.
The Weimar Republic (1919-1933) reintroduced the black-red-gold flag again.
After World War II the black-red-gold tricolour became the flag of both German states, although East Germany added its coat of arms to the flag in 1959.
Since the German reunification in 1990 the plain black-red-gold tricolour has been the flag of the united Germany.
Frankfurt National Assembly of 1848