Yorkoff Kaserne Hanau
by Robert Button
(Stanton Mi. USA)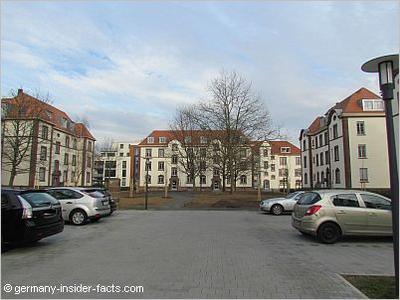 Apartment blocks at former Yorkhof Kaserne March 2013

I was an ambulance driver for the 557 th amb co from 68-70 at yorkoff kaserne and moved my bride into a small apartment on Windecker Strasse three weeks after she graduated from nursing school in Hinsdale Ill. and two weeks after our wedding.

She had nothing to do but keep our little two room apt and bake pies for me. She would walk to the open air market and buy fresh fruit for them.
We didn't have any money in those days but heck we were newly weds and didn't need any.

---
Response to Yorkoff Kaserne Hanau
by Rita
Hi Robert,
Thank you for sharing your memories. Have you visited Hanau again?
I reckon the city has changed a bit since then, however, the farmer's market is still held twice a week.
Rita
---
Are you looking for inspirations to visit Germany?

Below are a few articles about favourite holiday destinations. Enjoy your planning!

Reader's Questions & Stories