Stationed with the 42nd Ordinance Pioneer Kaserne 60-62
by Bernie
(Everett, Washington)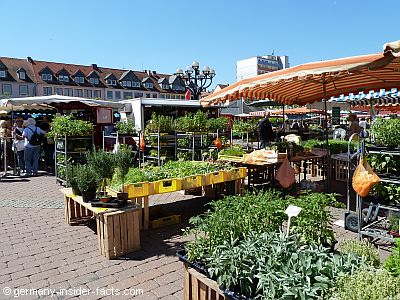 The market is still held twice a week
I was stationed with the 42nd ordinance on Pioneer 1960-1962.

Remember spending time at the Jolly bar listening to the Tielman Brothers. That ended when I met and married a German girl and we will celebrate our 50th this June.

We have returned many times to Hanau to visit with family and friends. We visit and keep in contact with the girl that introduced us fifty-one years ago. She and her husband will visit with us at our home this August.

We return to Hanau as often as we can. A lot has changed since we left but we have been able to return enough times that the changes are not a great shock.

My wife and I spend quite a bit of time streaming the Hessenschau on the computer so we are able to keep up with live news, currant programs and events.
I miss Germany and have always felt I left a good part of myself there.

Bernie and Erika
Washington State


---
Reply to
Stationed with the 42nd Ordinance Pioneer Kaserne 60-62
(By Rita)
Hi Erika and Bernie,
Thank you for sharing your memories. I am glad that you get the chance to return to Hanau frequently.
You are correct, there have been many changes in Hanau since then. And more are to come. I have started a photo album at the
Germany facts Facebook page
to document what is happening at the Freiheitsplatz area right now.
Here is a short video you and others might enjoy. It is called "Hanau a go-go" and was the working tilte for the TV documentation "Roll over Hanau".
Enjoy,
Rita
Below are a few articles about favourite holiday destinations. Enjoy your planning!