German Currency
Where to exchange foreign currencies?
Credit card or cash while travelling in Germany?
---
The German currency is the Euro. Actually, the Euro is not "German money", but it is the currency we use in this country.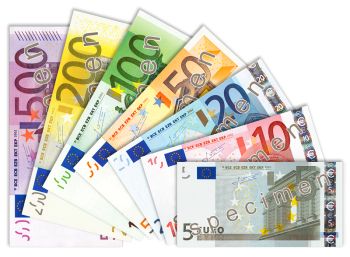 The Euro replaced the German Mark and it is the official currency of the European Union.
Sixteen states in Europe currently use the Euro. These states are Austria, Belgium, Cyprus, Finland, France, Germany, Greece, Ireland, Italy, Luxembourg, Malta, the Netherlands, Portugal, Slovakia, Slovenia and Spain.
If you visit Germany from a country within the eurozone, you are a happy traveller! No need to worry about the best exchange rates before you leave home.
While you travel in Germany, you don't need to calculate prices into another currency.
Isn't it very handy to travel in a foreign country with the currency you are used to?
Advertisement


Facts about the Euro
Euro banknotes are issued in €500, €200, €100, €50, €20, €10, €5 notes.
Denominations of Euro coins are €2, €1, 50c, 20c, 10c, 5c, 2c, and 1c.
All Euro coins have a common side showing their value, while the national side shows an image chosen by each country.
Euro coins from any member state are valid in all states throughout the Euro zone.
The Euro notes, front and back side, are the same in all countries.